The following interactive picutes gives an overview about the concrete policy modelling lifecycle. To get further information to a certain task, please click on it.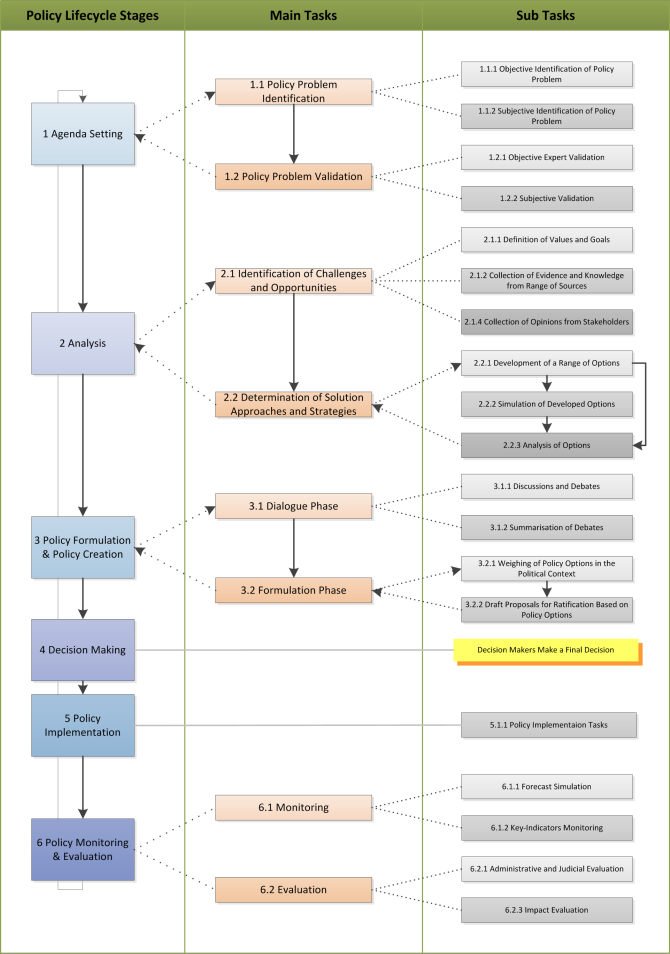 This process model was published in:
Sonntagbauer, Susanne; Sonntagbauer, Peter; Nazemi, Kawa; Burkhardt, Dirk:
The FUPOL Policy Lifecycle. In Handbook of Research on Advanced ICT Integration for Governance and Policy Modeling. Hershey, Pennsylvania: IGI Global, pp. 61-87, 2014.
Burkhardt, Dirk; Nazemi, Kawa; Sonntagbauer, Peter; Sonntagbauer, Susanne; Kohlhammer, Jörn:
Interactive Visualizations in the Process of Policy Modeling. In: Proceedings of IFIP eGov 2013: Joint Proceedings of Ongoing Research of IFIP EGOV and IFIP ePart 2013 (LNI 221), Köllen Druck+Verlag GmbH, Bonn, Germany, pp. 104-115, 2013.
Dirk Burkhardt, Kawa Nazemi, Peter Sonntagbauer, Susanne Sonntagbauer (Eds.):
Deliverable 2.19 ‐ Policy Design Process and FUPOL Component Integration, Public Report (Deliverable) of the FUPOL Project, 2012.